Mirela's Food Diaries (Part 2) | Cauliflower Pizza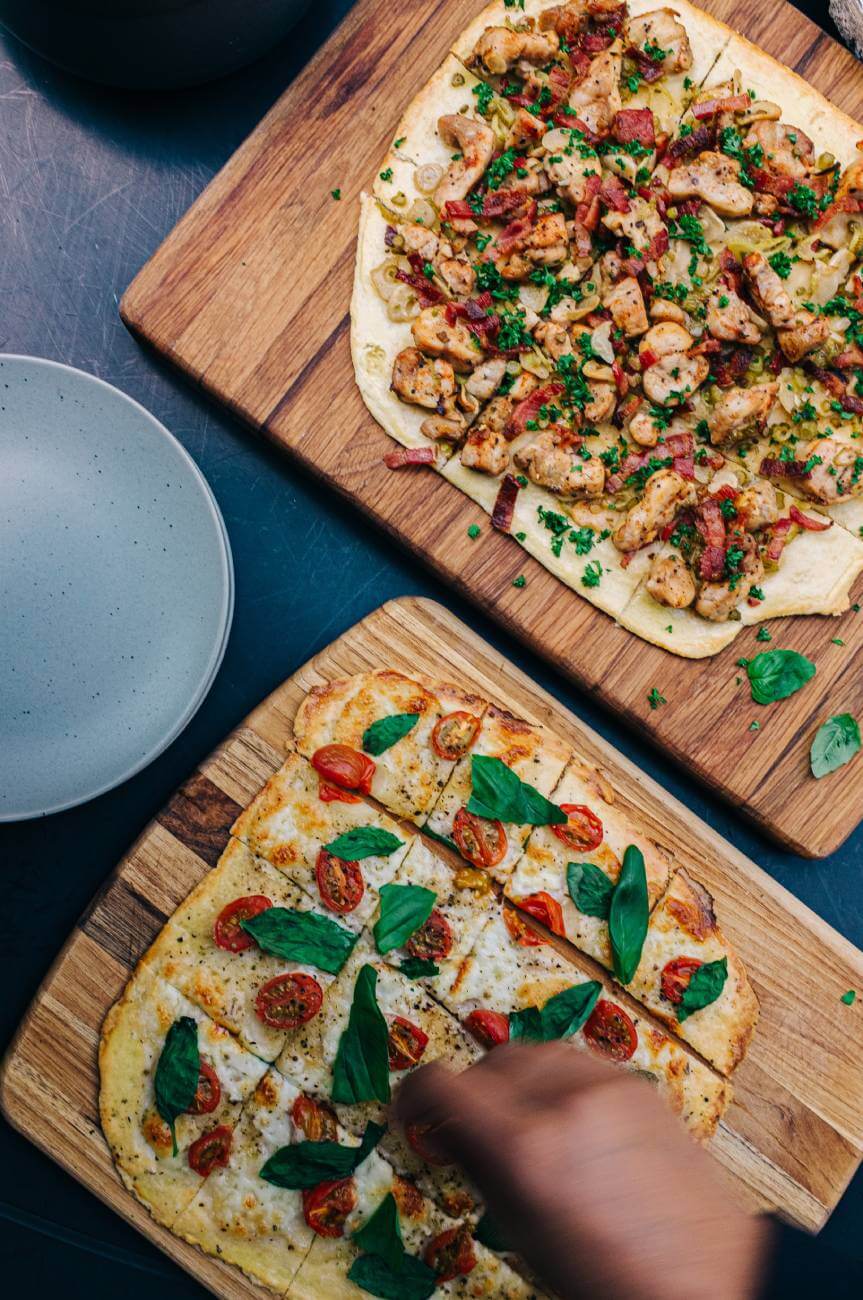 Welcome to Mirela's food diaries – part 2!
I hope you like the recipes I'm sharing and if you do try them at home, don't forget to mention @webdesh on Instagram, so we can see your result;)
Last time I shared my take on Sweet potato cream soup and today I've prepared for you….*drumrolls*…. CAULIFLOWER PIZZA!
The first time I tried to make a cauliflower crust pizza, I used the first recipe that popped up in my search. While it turned out astoundingly good and gracious, I decided to step it up a bit (or a lot as it turned out) and today I'm going to share with you another recipe, which is completely vegan, high on protein, low on carbs and overall very tasty.
For the homemade marinara sauce:

3-4 tbsp nutritional yeast

some dried basil and oregano

10g flaxseed meal
60ml water

mushrooms, arugula, spinach,
bell peppers, etc.
This recipe takes more time than the others, but it's a really delicious substitute to regular pizza and I guarantee it will be worth your time.
Step 1: Gather all the ingredients
As I've mentioned in my previous article, preparing all of your ingredients before you start work cuts cooking time by two!
So, gather all ingredients and separate them by usage. We have 2 main categories: for the dough and for toppings. The dough should be fairly easy to make, except for the egg substitute, which I've found in the face of "flax egg".
At first I wasn't too fond of the idea of using seeds to make a substitute for eggs. In my case I don't even need to, since I'm not vegan, but for the sake of trying everything in the world, I DIY-ed eggs.
Step 2: Make your homemade marinara sauce
I suggest starting with your homemade marinara sauce. This is the most simple and basic recipe, so it's really easy to make and use it instead of a store-bought one.
So, what you want to do is peel the tomatoes and cut them in medium-sized pieces. Then, chop the onion and the garlic. Heat up the olive oil and add the onion and the garlic. Cook until golden-brown, then add the tomatoes and a half tablespoon of sugar.
When the tomatoes soften and become watery, bring the sauce to a boil over medium heat. Cook for about 20-30 minutes, then add all the remaining herbs and let cook a little more in order for the herbs to enrich the sauce with flavour. Take it off the head and let sit.
Step 3: Let's DIY some eggs
I've read that using flax eggs don't work in recipes that call for more than 1 egg, but this ain't the case so we're sticking to our DIY eggs!:D
It's really simple to make – just mix 10g of grounded flaxseed and 60ml of water and stir. After you've mixed them well, leave aside for 10 minutes or so. When it's sat for a few minutes, the mixture will turn into a sticky, gelatinous, stretchy texture.
Step 4: Make the cauliflower crust
First, clean and cut the cauliflower head into small pieces. Now, some people suggest grating it, so it becomes fine and flour-like. I prefer putting the small pieces into a chopper and chopping it until rice-like texture.
Then, again, some people boil the cauliflower for 5 minutes. I prefer putting it in the microwave for 5 minutes. Now hear me out: this step is essential in order to soften the cauliflower rice, but as it softens it releases a lot of juice and I don't think it's logical to boil it and add even more liquid to the solution, and then having to take it all out! Maybe it's me who's got it wrong, but yes, microwave method works like a charm.
After microwaving, let cool for 10-15 minutes. Then, strain the water using a clean cloth. The way you do that is: spread out the piece of cloth, put a ball of cauliflower rice in the middle, fold it up, hold the ends and squeeze it until you've drained as much liquid as possible.
When you've strained the cauliflower, add the DIY eggs, nutritional yeast to taste, salt, pepper, some garlic powder and the cornstarch. Cornstarch helps hold the mixture together. Mix it well until a sticky dough-like texture forms.
Line a baking pan with some parchment paper and spread the dough evenly in a thin layer. You don't want the layer to be too thin though, since it's still not as stretchy as regular dough and it won't be able to hold all of the toppings.
Bake for 12 minutes or until golden-brown on the edges and in the center. Then take it out and prepare to place the toppings.
Final step: Toppings
Spread the marinara sauce, add some fresh herbs, baby spinach, arugula, bell peppers, mushrooms or anything else you like. Be careful not to overload it, because it will fall apart. Sprinkle some nutritional yeast on top and add some soy cheese for flavour.
Bake for another 5 minutes, so the toppings will soften.
And that's it! You've just killed the pizza game:).
Compared to the
previous recipe
I shared with you, this one is a little harder and more time-consuming. I still think though that it's absolutely manageable and the result will be totally worth it! I hope you liked this recipe and don't forget to mention
@webdesh
on Instagram so we can see what you've created. <3 Cheers and see you soon!
More articles in lifestyle
Learn more about the author
Website Creator & Head of QA
/ IT, Software Engineering graduate 💻
/ good music, horror films, detective novels and delectable food 👌
/ YouTube videos junkie 🎥
/ animals, nature, water lover 🐱
Would you like to share something?