Mirela's Food Diaries (Part 1) | Sweet Potato Cream Soup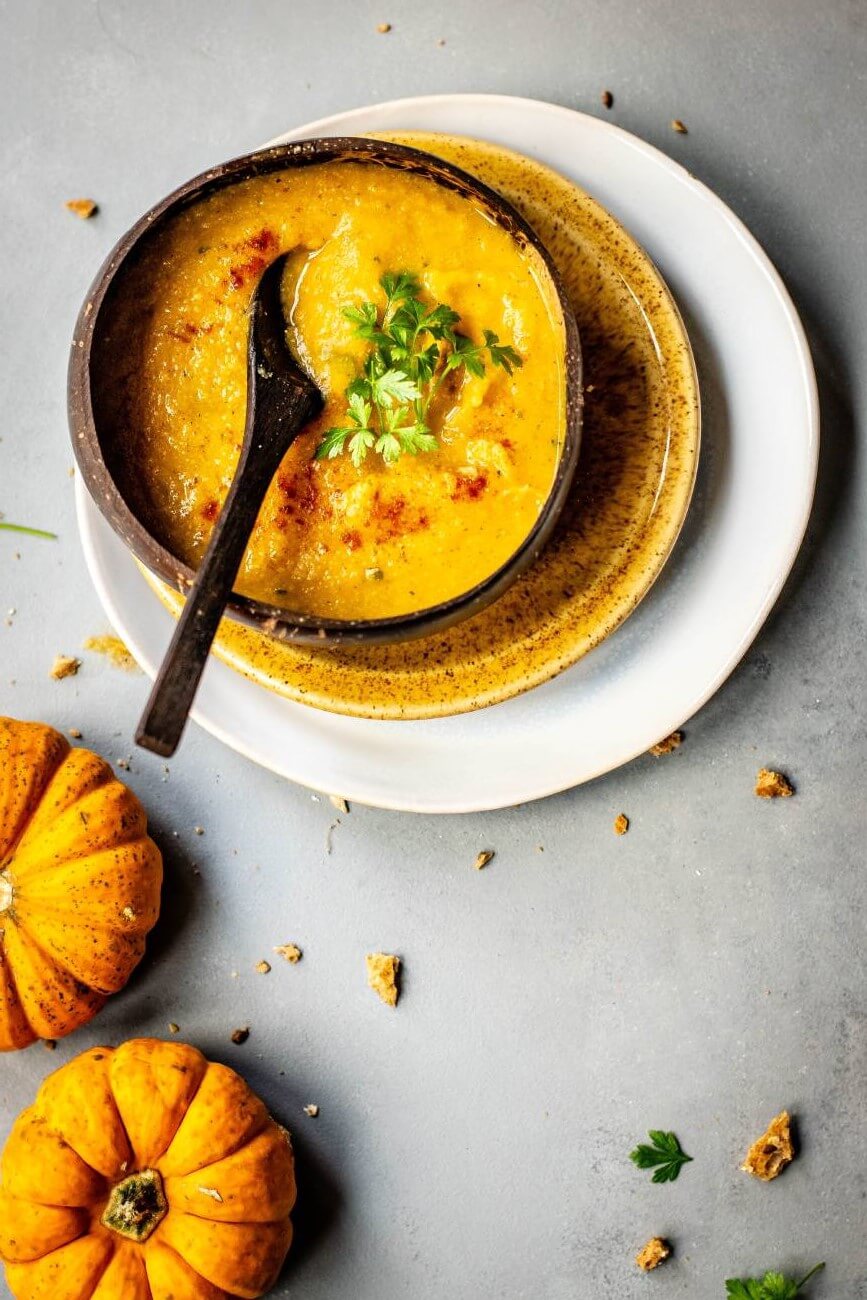 Hello there! This article is a bit untraditional for the Webdesh blog, but since we're all quite the foodies in our team, I've decided to start sharing some recipes with you. Most of them are either vegetarian or vegan and all of them are easy and fun to make. So welcome to my food diaries! 😀
I am probably the only person in the team who enjoys cooking, so it's natural I'll be the one posting and talking about food, as well as providing it on our coworkings. Don't take my word for how delicious these recipes are – just ask Polly and Bisi.
Today I offer you my take on sweet potato cream soup. I've also included some tips & tricks on how to organize your cooking process and do much more in much less time.
I hope you like my recipes and if you do try them at home, don't hesitate to post a picture on Instagram and mention @webdesh so we can see the beautiful result!
Enjoy!
This soup has easily become one of my favourites, since I really enjoy cream soups, especially those that have a unique, spicy flavour.
The recipe comes from my boyfriend's mother. It was invented one day when we were cleaning up the fridge and found a perfectly-edible sweet potato, a little bit of celery and some ginger. The rest is history…
This is also something you can prepare effortlessly and with no hassle at all, since most of the ingredients you most likely already have in your fridge.
1 big sweet potato /
2 smaller ones
Step 1: Gather all ingredients and chop them up
A tip I have is to ready all the veggies and spices you're going to use first. Sweet potato is very hard and if you decide to chop it up on the go, it's going to slow down your cooking process. It's good to cut them roughly the same size, because it optimizes the cooking time. I am in no way saying the potato and the onion will soften at the same time, but it does bring that difference to a minimum.
Step 2: Sautee the onion and the garlic
When I make cream soups of any kind, I usually chop the vegetables roughly into even parts and boil them until soft enough to puree.
What we did here is we sauteed the onion and garlic in some coconut oil until slightly-brown. You don't want to over-do them, just barely orange-y-brown and soft. After that, we added the other ingredients and poured water. Maybe that's the secret trick to making this soup so very unique and appetizing. A huge plus is that it's also absolutely vegan and a great way to use some leftover veggies from your fridge.
While you do that, boil some water in an electric kettle, so you won't have to wait so long to bring it to a boil while cooking.
Step 3: Boil the veggies until soft
Add all the other ingredients in the pot and pour over the pre-boiled water. Add some turmeric, some salt, pepper, as well as some chili flakes if you like it extra spicy.
And now we wait. Once all the veggies have softened enough, put some tomato paste and give it a stir. Since what we're making is fairly healthy, try using a home-made tomato paste as opposed to buying one at the store. Store-bought ones, even more expensive brands, put a lot of additives and preservatives of all kinds, as well as artificial sweeteners and colouring. If you don't have a homemade sauce though, just pick one that works and tastes best for you.
Leave it to boil for a few more minutes, then take off the heat and on to the next step.
Step 4: Blend everything together
Next comes blending. Before you do so though, make sure to test each of your veggies to see if they've cooked thoroughly. If any of your ingredients is still undercooked, it won't blend well and your soup will be lumpy.
After you've made sure that it's all good, proceed to blending. Now, depending on how thick you want your soup to be, you might need to lose some of the water you've boiled the veggies in. For a whole big pot of veggies I usually put around 2-2.5l of water on the start, but again – measure it depending on how much products you put in there. I like to have about 5-10cm of water above my veggies as some of it will vapourize during cooking.
If you still think your soup will turn out too watery, pour some of the water out. You can even put it in an ice tank and freeze it to have a homemade veggie broth.
Then, blend all together until creamy and smooth. Add a tablespoon of coconut butter or regular butter if you don't want it to be vegan. Stir until the butter has melted completely.
Final step: Adding nut milk & garnishing
Start adding some of that nut milk (again, you can use regular milk) and blend once more until even.
And that's it! You have a fresh, flavourful, healthy, hearty soup!
You can garnish it with some croutons if you'd like, or even sprinkle some pumpkin nuts on top.
For me cooking is one of the best ways to relax and unwind. Considering that I am still in university, while also working a full-time job, I usually don't have a whole lot of time to spare. The recipes I'm going to share with you will be easy to make and the ingredients used are mostly things you already have in your fridge. I really hope you enjoyed this recipe and if you try it, don't forget to mention
@webdesh
on Instagram so we can see what you've created. <3 Cheers and until next time!
More articles in lifestyle
Learn more about the author
Website Creator & Head of QA
/ IT, Software Engineering graduate 💻
/ good music, horror films, detective novels and delectable food 👌
/ YouTube videos junkie 🎥
/ animals, nature, water lover 🐱
Would you like to share something?